Pesan bertuliskan "This program is used internally by packagefromtheweb. It should not be executed directly" muncul ketika akan melakukan installasi umumnya disebabkan karena aplikasi yang memaket mengalami masalah, sehingga tidak bisa mengekstrak file installasi yang ada dalam paket installasi tersebut, installshield merupakan salah satu paket aplikasi yang bisa mengalami masalah ini.  Lalu bagaimana solusinya?

Cara mengatasi packagefortheweb
Untuk mengatasi masalah di atas, caranya cukup sederhana. Gunakan saja aplikasi untuk mengekstrak paket installasinya secara paksa. yaitu dengan aplikasi UniExtract Installer. Aplikasi ini bisa mengekstrak berbagai paket installasi seperti di bawah ini
7-zip archive = .7z, .exe
ACE archive = .ace
ARC archive = .arc
ARJ archive = .arj, .exe
ASpack compressed file = .exe
BIN/CUE CD-ROM image =.bin, .cue
bzip2 archive =.bz2, .tbz2, .tar.bz2
CPIO compressed file =.cpio
Debian package =.deb
DiscJuggler CD-ROM image =.cdi
Encoded files =.b64, .uu, .uue, .xx, .xxe, .yenc, .ntx
Gentee package = .exe
gzip archive =.gz, .tgz, .tar.gz
IMG floppy disk image =.img
Inno Setup package = .exe
Installer VISE package = .exe
InstallShield Cabinet archive =.cab, .1, .lib
InstallShield package =.exe
ISO 9660 CD-ROM image =.iso
KGB archive =.kgb, .kge,
LZH compressed file = .lha
LZMA compressed file = .lzma
LZO compressed file = .lzo
LZW compressed file = .z, .tz, .tar.z
LZX compressed file = .lzx
MHTML file = .mht
Microsoft Cabinet archive =.cab, .exe, .imf
Microsoft Compiled Help file = .chm
Microsoft compressed file = .??_
Microsoft LIT e-book = .lit
Microsoft Windows Help file = .hlp
Nero CD-ROM images = .nrg
NSIS package =.odt, .odp, .odg, .ods
Oasis Document Format (ODF) document =.docx, .pptx, .xlsx
Office Open XML (OOXML) document =.dbx
Outlook Express mail archive =.pea
PEA archive =.rar, .001, .exe
RAR archive = .exe
Reflexive Arcade package = .exe
RoboForm package = .exe
RPM package =.rpm
SetupFactory package = .exe
SIS (SymbianOS) packages=.sis
StuffIt packages =.sit
TAR archive =.tar, .tbz2, .tgz, .tz, .tar.bz2, .tar.gz, .tar.z
UHARC archive =.uha
UPX compressed file = .exe, .dll
Windows Imaging Format image =.win
Windows Installer package =.msi
Windows Installer patch =.msp
Windows Update Standalone patch =.msu
Wise Installer package =.exe
ZIP archive =.zip, .jar, .xpi, .wz, .exe
Zoo archive =.zoo
Setelah paket installasi berhasil diekstrak, cari file yang bernama Setup, selanjutnya lakukan installasi dengan file setup tersebut.
Untuk mendownload  aplikasi UniExtract Installer yang dibuat oleh legroom.net , gunakan tombol di bawah ini
aplikasi ini tidak terlalu besar, hanya  5,3 mb saja.
Cara extrak paket installasi  installshield exe
1. Setelah berhasil menginstall UniExtract Installer, silahkan buka folder dimana kamu meletakkan file paket installshield, kemudian klik kanan, lalu pilih Uniextract Here.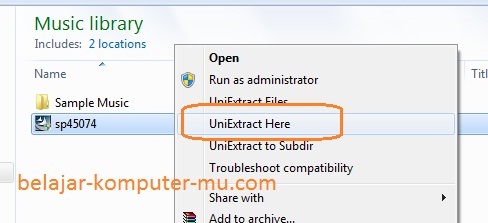 2. Tunggu beberapa saat sampai muncul jendela seperti gambar di bawah ini, Â kemudian pilih Not an installshield intaller, lalu tombol OK.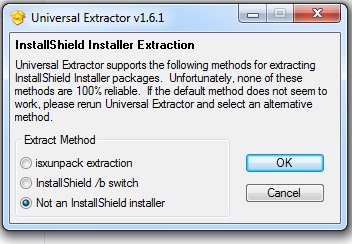 3. tunggu prosessnya beberapa saat sampai muncul kumpulan folder dan file seperti gambar di bawah ini. Kemudian cari file setup untuk melakukan proses intallasi.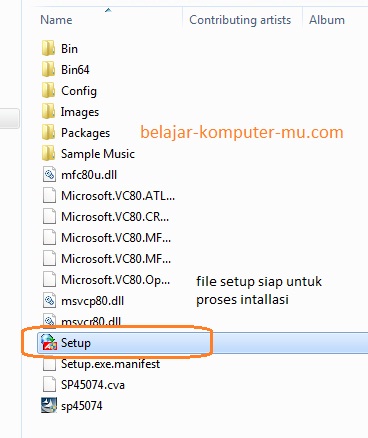 ==========
Cerita pendek penulis mengenai masalah packagefortheweb di atas.
Beberapa hari yang lalu penulis ingin menginstal sebuah driver Ati Radion pada laptop Compaq yang baru saja diinstal sitem operasi Windows 7. Namun sayangnya proses installasi tidak bisa berjalan dan muncul jendela peringatan yang berisi pesan "This program is used internally by packagefromtheweb. It should not be executed directly". Penulis mengira bahwa aplikasi yang memaket driver ini yaitu installshield mengalami masalah, jadi penulis mencoba mendownload lagi driver ati radion dari situs resminya sebesar 112 mb yang juga berformat installshield. Namun ternyata penulis gagal menginstall lagi, dan muncul pesan yang sama. Kemudian penulis mencoba menginstall ulang windowsnya, mungkin saja ada file yang corupt. Namun selesai diinstal ulang ternyata masih belum bisa juga.
Karena berkali kali gagal, akhirnya penulis mencoba mencari petunjuk di internet, namun hasilnya nihil. penulis mencoba merenung sejenak, berpikir. ALhamdulillah menemukan sebuah ide dan cara yang berhasil. Ide ini merupakan lanjutan dari perkiraan pertama tadi, yang mengira bahwa installshield mengalami masalah. Installshield merupakan sebuah aplikasi untuk memaket sebuah program installasi, penulis mencoba mencari aplikasi untuk meng ekstrak program aplikasi yang ada dalam installshield tersebut. APlikasi tersebut adalah UniExtract Installer
Dengan aplikasi UniExtract Installer kita bisa mengekstrak secara paksa file paket installshield dan banyak paket installasi lainnya. Untuk mengekstrak file paket installshield tidak terlalu sulit, karena aplikasi UniExtract Installer menyediakan tampilan antar muka yang sederhana dan mudah dipahami.
Setelah file installshield berhasil diekstrak, tampillah kumpulan file installasi, termasuk file setup yang digunakan untuk proses intalasi. Instalasi aplikasi driver ati radion pun berhasil tanpa muncul pesan tulisan This program is used internally by packagefromtheweb. It should not be executed directly